All our vehicles are less than 6 months old and economical
- Book Online Now for a 5% Discount.
Mercury Rent a Car Fleet Guide
We know with car rental, that it's important you choose the right car for the job. So our friendly, helpful staff at all four offices will be happy to help you choose the correct car for your travelling needs.
From small city cars to wiz through the city traffic and people carriers for great family trips to the comfort and style of our large luxury cars, ideal for that special weekend or for your next business trip. Simply go the relevant vehicles page, and select the model which suits you best or call us on: 01283 539 123.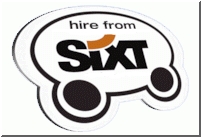 Visit
Sixt Holiday Car Hire
for more UK and International car hire deals