All our vehicles are less than 6 months old and economical
- Book Online Now for a 5% Discount.
How Uber is replacing traditional taxis
Now's a terrible time to be a taxi driver. If you hadn't already noticed, a smartphone app called Uber is turning the taxi world upside down.
This app allows any ordinary citizen with a car to have a stab at being a cabbie. All you have to do is pass a few basic checks and you'll be out taxing customers in no time. Thanks to the app's popularity, Uber now has hundreds of thousands of amateur taxi drivers across the world. London cabbies are so angry at this new competition that they blocked the streets around the House of Commons last May in protest.
Uber was officially launched in San Francisco in 2011, and since then it's spread to over 70 cities across the globe, including New York, Seoul, Toronto, Sydney, Beijing, and of course, London. A brief glance at Uber's finance's shows the company's not to be underestimated: its estimated worth is $50 billion, and the company claims its revenues are doubling every six months. What's remarkable is that it's achieved all this in less than four years. No wonder traditional cab drivers are nervous about this taxi replacement.
What is Uber?
Gone are the days of waving like an idiot as you try to hail down taxis in the street, and no more do we wearily pull out the yellow pages to search for taxi companies. Today, companies like Uber allow people to use their smartphones to order a taxi with a few taps of a finger instead.
The user simply sets the departure and arrival locations on their phone, and then pays by credit or debit card. The user can even watch the car approach on their smartphone, because the app displays a real-time map of drivers in the area.
But what makes Uber special is that none of their drivers are licensed taxi drivers. They're just ordinary Joes driving their own cars. And this freedom is set to shake up the industry very much indeed.
What's so good about Uber?
For people like you and me, the best thing about Uber is the fare prices. Prices can be half those of traditional cab firms. Uber also offers a rating system where passengers can rate drivers and vice versa, which encourages friendliness and good service.
Uber's also great for wannabe cab drivers. It's far easier to become an Uber driver than, say, a London cabbie, because no intimate knowledge of the entire London A-Z is needed. Uber also offers complete flexibility because drivers can choose any hours they want. This means people in 9 to 5 jobs can work as a taxi driver in the evenings or on weekends.
Bring on the sharing economy
Uber is just one company making money from the "sharing economy". This is where regular people offer their goods and services for a lower price than traditional companies. Airbnb is a great example. This company provides a system for homeowners to let their spare bedrooms on a temporary basis, like a B&B. While this is fantastic for the public because increased competition slashes prices, it has traditional industries up in arms. But unfortunately for traditional hotels and taxi drivers, this new technology looks to stay, as companies like Uber continue their quest for global market domination.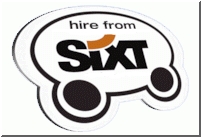 Visit
Sixt Holiday Car Hire
for more UK and International car hire deals